Orange County Bail Bonds | Fianzas en Orange County
Call4Bail — Freedom is a call away.
For Immediate Orange County Bail Bonds Service call
Toll Free: 888.622.4524 or 714-852-2152
If you need immediate Orange County Bail Bonds information regarding a person held in custody at the Orange County Jail, please call our toll free number 1.888.622.4524 for immediate Orange County Bail Bonds assistance 24/7. Our professional Bail Bondsmen in Orange County are on call now ready to assist.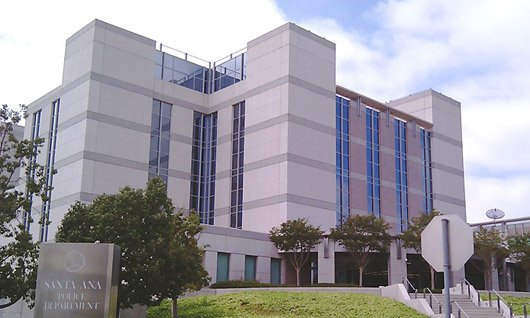 Santa Ana Police Department
Call4Bail Bail Bonds in Orange County pledges to process your Orange County Bail Bonds as smoothly and quickly as possible. We will help you through the bail process with respect and professionalism.
We post bail bonds in Orange County and we deal with all Orange County courts and jails. Our bail bond agency is conveniently located in Santa Ana 970 W. 17th St Suite E. Santa Ana CA, 92706 only couple blocks from the Orange County Jail and Orange County Superior Court open 24 hours per day, 7 days per week.
We specialize in DUI's and domestic violence in Orange County. At Call4Bail Bail Bonds, a local, experienced agent is on call to assist you at all times.
The Orange County Sheriff's Central Men's Jail in Santa Ana, Theo Lacy Facility in Orange, and the James A. Musick Facility in Irvine usually require four to six hours to release an inmate after a bond is posted — depending on the time and date of the posting. City jails of Orange County, such as Fullerton Jail, Newport Beach Jail, Huntington Beach Jail, and Costa Mesa Jail take approximately 30 minutes to release an inmate after bail is posted.
Orange County Bail Bonds by Call4Bail Bail Bonds, located only couple blocks away from the Orange County jail facility, we are family owned but professionally operated. Orange County bail agents have years of experience in the Orange County Bail Bonds industry. For Bail Bonds in Orange County there is only one company you can trust Call4Bail, we are just minutes from all jails in Orange County. For immediate service call toll free 888-622-4524. We operate the lowest rates 8%* rates for those who qualify.
Call Us Now at 1-888-822-4524 for Immediate Service
Call4Bail Bail Bonds in Orange County offers free warrant checks in the County of Orange County.
Call4Bail Bail Bonds offers free warrant checks in the OC.
Santa Ana Court Warrants,
Fullerton Court Warrants,
Huntington Beach Warrants,
Newport Beach Warrants
Orange County Jail Information
Central Jail, Santa Ana, California
We can post Bail Bonds in Orange County In these Court Locations
Click below for a direct link to the Superior Court of California in Orange County homepage for each court. You will find contact numbers for all departments, hours of operation, and mailing addresses.
If you cannot find what you are looking for, please call us at (888) 6-BAIL-247 (888-622-4524). We will be happy to assist you.